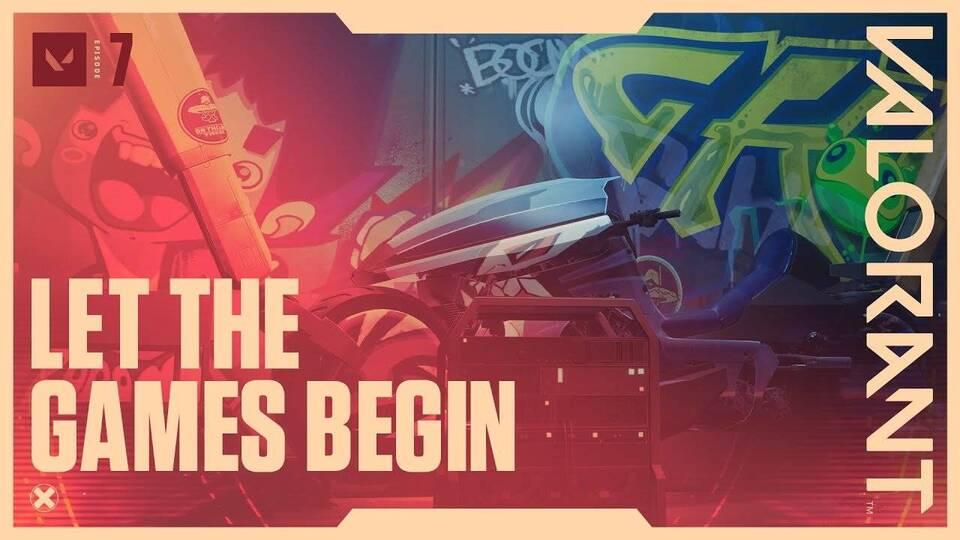 Valorant Ep 7 Act 1 Battle Pass: Exclusive Price, Leaks & Insights
Introducing Episode 7 Act 1
Are you ready for a fresh gameplay experience in Valorant? The highly anticipated new episode is finally here! Episode 7 Act 1 brings an exciting content update, packed with enhanced customization options and thrilling features that will keep fans on the edge of their seats.
This article is your go-to source for everything you need to know about the latest patch. From the original game mode additions to juicy leaks about the upcoming battle pass, we've got it all covered right here on this page.
Valorant Episode 7 Act 1 promises to shake things up by introducing new elements that will take your gaming experience to the next level. As a sequel to previous episodes, this part of the game is sure to leave both veteran players and newcomers craving for more action-packed moments.
So, what can you expect from this content update? For starters, you'll get a taste of fresh gameplay mechanics that make each match even more exhilarating than before. Plus, with an array of customization options at your fingertips, you can now show off your personal style as you dominate your opponents.
Release Date and Start Time
Official Launch Date
The highly anticipated Valorant Episode 7 Act 1 Battle Pass is set to be released in June. Fans of the popular first-person shooter game are eagerly awaiting this new season, as it promises exciting content and updates. The exact release date hasn't been officially confirmed yet, but keep an eye out for announcements from Riot Games in the coming weeks.
Scheduled Start Time
Although the specific start time for Valorant Episode 7 Act 1 Battle Pass remains unknown, previous seasons have typically launched on Tuesdays around midday (PST). If Riot Games follows their usual pattern, we can expect the new season to kick off sometime during a Tuesday in June. Be sure to stay tuned for more information on the exact start time as it becomes available.
Downtime Duration
When it's finally time for the launch of Valorant Episode 7 Act 1 Battle Pass, players should anticipate some downtime before they can dive into the new content. In previous seasons:
Downtime has lasted anywhere from a couple of hours to half a day
This allows Riot Games to implement necessary updates and ensure a smooth transition into the new season
During this period, players may be unable to access certain parts of the game or experience slower loading times
Remember that patience is key! Once downtime ends, you'll be able to fully enjoy all that Valorant Episode 7 Act 1 Battle Pass has to offer.
Patch Notes Availability
As with any major update in gaming titles like Valorant, patch notes play a crucial role in keeping players informed about changes and improvements.
Battle Pass Pricing Details
Cost of Premium Pass
The current battle pass for Valorant Episode 7 Act 1 is priced at 1000 VP (Valorant Points). This premium pass offers players exclusive rewards like gun skins, player cards, and other in-game cosmetics. To give you an idea of how much it will cost you in real money:
In the United States: $10
In Europe: €10
In the United Kingdom: £8
Keep in mind that these prices may vary slightly depending on your region.
Currency Conversion Rates
Since Valorant is played worldwide, the game uses a virtual currency called Valorant Points (VP) to simplify transactions. The conversion rates for VP are as follows:
475 VP: $4.99 / €4.99 / £4.49
1000 VP: $9.99 / €9.99 / £8.49
2050 VP: $19.99 / €19.99 / £16.74
3650 VP: $34.99 / €34.99 / £29.24
5350 VP: $49.99 / €49.99 / £41_74
You can purchase additional Valorant Points through the in-game store using real money.
Payment Methods Accepted
Valorant accepts various payment methods to make it convenient for players all around the globe:
Credit/Debit cards (Visa, Mastercard)
PayPal
Prepaid cards (Paysafecard)
Direct carrier billing (selected countries)
It's important to note that available payment options may differ depending on your country or region.
Refund Policy
Before purchasing the battle pass, make sure you're aware of Riot Games' refund policy:
You can request a refund within seven days of purchase.
The item must be unused (e.g., unopened loot boxes, unspent VP).
Refunds for Valorant Points are available only in the original form of payment.
Free vs Premium Comparison
Free Tier Rewards
The Valorant Episode 7 Act 1 Battle Pass offers players a variety of rewards, even for those who choose not to purchase the premium tier. The free tier includes:
Agent contracts
Gun skins
Player cards
Sprays
These items can be earned simply by playing matches and earning XP. Although the selection of rewards is more limited than in the premium tier, players can still enjoy customizing their game experience without spending any money.
Premium Tier Benefits
For those willing to invest in the premium battle pass, there are several additional benefits that make it worth considering. These include:
A larger selection of gun skins, player cards, and sprays
Exclusive access to certain items not available in the free tier
Bonus XP boosts that help you progress through the battle pass faster
Additional Radianite Points for upgrading weapon skins
While the price may be a factor for some players, investing in the premium tier can greatly enhance your gaming experience and provide exclusive content unavailable elsewhere.
Exclusive Items for Premium Users
One major draw of purchasing the premium battle pass is gaining access to exclusive items that won't be available to free-tier players. Some examples of these exclusive items include:
Rare and epic weapon skins with unique designs and animations
Animated player cards showcasing your favorite agents or themes from Valorant lore
Custom gun buddies that add flair to your weapons during matches
Unique sprays that let you leave your mark on the battlefield in style
These items often have a higher level of detail and customization than their counterparts found in the free tier, making them highly sought-after by dedicated fans.
Upgrade Process
If you decide at any point during Episode 7 Act 1 that you want to upgrade from the free tier to the premium battle pass, doing so is simple:
Navigate to the Battle Pass tab in the main menu
Click on the "Upgrade" button next to the premium pass option
Complete your purchase using Valorant Points
Once you've upgraded, you'll immediately gain access to all premium tier rewards up to your current battle pass level. This means that if you've already made progress through the free tier, you won't lose any of it when upgrading.
Exclusive Weapon Skins Overview
Unique Weapon Designs
Valorant Episode 7 Act 1 Battle Pass brings a fresh batch of gun skins that are sure to make your weapons stand out on the battlefield. Riot Games has gone all out with these new designs, adding a touch of style and flair to each weapon. Players can expect:
Eye-catching colors and patterns
Intricate details and textures
Custom animations for reloading and firing
These unique weapon designs not only look great but also add an extra layer of immersion to the game. With every team deathmatch or competitive round, you'll feel like a true agent wielding one-of-a-kind weaponry.
Themed Skins Collection
The new progression system in Valorant offers themed skin collections that cater to various player preferences. Whether you're into futuristic tech, sleek stealth, or vibrant fantasy, there's likely a collection that suits your taste. Some examples include:
Sci-fi-inspired skins with glowing accents
Camouflage patterns for covert operations
Bold colors and intricate designs inspired by mythology
Each collection typically includes skins for multiple weapons, allowing players to coordinate their entire arsenal with their preferred theme.
Rarity Levels
Just like in previous updates, the Valorant Episode 7 Act 1 Battle Pass introduces gun skins with varying rarity levels. These levels determine the overall quality and uniqueness of the skin:
Select Edition: The most common tier featuring simple color changes or basic patterns.
Deluxe Edition: More detailed designs with custom textures.
Premium Edition: High-quality skins featuring unique animations or visual effects.
Ultra Edition: The rarest tier offering exclusive designs, animations, and effects that truly stand out.
The higher the rarity level, the more impressive and sought-after the skin becomes among players.
Unlocking Requirements
To get your hands on these exclusive weapon skins in Valorant Episode 7 Act 1 Battle Pass, you'll need to progress through the new leveling system. This system rewards players with skins, sprays, and other cosmetics as they complete in-game challenges and earn experience points (XP). Here's a brief overview of how it works:
Purchase the Battle Pass for a set price on Steam or Riot Games' platform.
Complete daily and weekly missions to earn XP and level up your Battle Pass.
Unlock new tiers containing exclusive skins, player cards, gun buddies, and more.
Equip your newly acquired skins in the game mode of your choice.
Keep in mind that some skins may require additional steps to unlock, such as reaching a specific rank or completing seasonal events.
Player Card Rewards Breakdown
Customizable Player Cards
One exciting feature of the Valorant Episode 7 Act 1 Battle Pass is the customizable player cards. These cards allow players to showcase their unique style and personality during gameplay. They can be earned through progression, giving everyone a chance to collect them all.
Choose from various themed artwork designs
Mix and match elements to create your perfect card
Show off your achievements with pride
As you progress through the Battle Pass, you'll unlock premium rewards like new player card designs. The more you play, the more options you'll have for customizing your card!
Earnable Through Progression
The best part about these customizable player cards is that they are earnable through progression in the game. As players level up and complete challenges, they will be rewarded with new card designs and elements.
No need to spend real money on VP or Kingdom Credits
Encourages continued gameplay and engagement
Provides a sense of accomplishment as players unlock new rewards
By earning these cards through gameplay, even those who don't want to invest in premium currency can still enjoy this aspect of the game.
Themed Artwork Designs
Valorant Episode 7 Act 1 introduces themed artwork designs for player cards. These unique designs add an extra layer of personalization for players while also tying into the overall theme of the game.
Inspired by characters, maps, and lore from Valorant universe
New themes introduced with each episode and act
Collectible nature adds replay value for completionists
These themed artwork designs not only look great but also provide an incentive for players to keep playing and collecting them all.
Collection Completion Rewards
For those dedicated enough to collect every player card design available in Valorant Episode 7 Act 1, there's an additional reward waiting: collection completion rewards! By unlocking all available cards, players will receive exclusive bonuses to show off their dedication.
Special player card designs for completionists
Bragging rights among friends and teammates
Encourages players to explore every aspect of the game
With these collection completion rewards, there's even more motivation for players to dive deep into Valorant Episode 7 Act 1 and unlock everything it has to offer.
Spray Rewards Highlights
In-game Graffiti Sprays
Valorant Episode 7 Act 1 Battle Pass brings a new set of in-game graffiti sprays that players can use to express themselves on the battlefield. These sprays are not only visually appealing but also serve as a way to communicate with your teammates and opponents. Here's what you can expect from these rewards:
A variety of expressive illustrations, ranging from cool characters to funny memes
Unlockable through tiers, allowing players to collect more sprays as they progress in the game
Limited-time availability, making them exclusive and sought-after by dedicated players
These graffiti sprays are perfect for those who love adding a personal touch to their gaming experience. So, don't miss out on these awesome rewards!
Expressive Illustrations
The sprays included in the Valorant Episode 7 Act 1 Battle Pass feature expressive illustrations that showcase different aspects of the game's universe. Players can choose from a wide array of designs that cater to various interests and preferences. Some examples of these illustrations include:
Iconic character poses and signature moves
Fun references to popular culture or internet memes
Abstract art inspired by the game's lore and setting
These expressive illustrations allow players to convey their personalities and emotions during matches, creating a more immersive gaming experience.
Unlockable Through Tiers
To get your hands on these amazing spray rewards, you'll need to progress through the tiers in Valorant Episode 7 Act 1 Battle Pass. As you play matches and complete challenges, you'll earn experience points (XP) that will help you level up your battle pass tier.
Here's how it works:
Purchase the battle pass for Valorant Episode 7 Act 1
Complete daily missions or weekly challenges
Earn XP based on your performance in matches
Level up your battle pass tier as you accumulate XP
Unlock new spray rewards as you reach higher tiers
Remember, the more you play and the better your performance, the faster you'll unlock these awesome sprays!
Limited-time Availability
One of the most exciting aspects of these spray rewards is their limited-time availability. This means that once Valorant Episode 7 Act 1 Battle Pass comes to an end, these unique sprays will no longer be obtainable. Players who manage to collect them during this period will have exclusive bragging rights among their peers.
So, if you're a fan of in-game cosmetics and love collecting rare items, make sure to grab these spray rewards while they're still available!
Gun Buddy Rewards Insights
Decorative Gun Charms
Gun buddies in Valorant are a great way to personalize your weapons and show off your style. These decorative gun charms come in various designs, ranging from cute animals to sleek logos and more. As you progress through the valorant episode 7 act 1 battle pass, you'll unlock new and unique gun buddies to add to your collection.
Some popular gun buddy designs include:

Animal-themed charms
Game-related icons
Abstract art pieces
In-game agent symbols
These goodies not only enhance the aesthetics of your weapons but also serve as a status symbol among players, showcasing their dedication and skill level.
Collectible Series
Valorant's gun buddies are part of a collectible series that evolves with each new episode and act. This means that once an episode ends, some gun buddies may no longer be available, making them rare and sought-after items among players.
For example, previous episodes have featured:

Exclusive holiday-themed gun buddies
Limited-time event-inspired charms
Collaborations with popular brands or franchises
By collecting these limited-edition gun buddies, players can display their commitment to the game while also owning a piece of Valorant history.
Attach to Weapons
Attaching a gun buddy to your weapon is simple and adds a personal touch to your favorite firearms. To do this:
Open the "Collection" tab in the main menu.
Select the "Gun Buddies" section.
Browse through your unlocked charms and choose one you'd like to equip.
Drag it onto the weapon of your choice.
Enjoy flaunting your newly customized weapon in matches!
Each weapon can have its own unique charm attached, so feel free to mix and match according to your preferences.
Tier-based Unlocks
As you progress through the valorant episode 7 act 1 battle pass, you'll unlock gun buddies at different tiers. This means that the more you play and complete challenges, the more rewards you'll earn.
Some ways to level up your battle pass include:

Winning matches
Earning XP through daily and weekly missions
Completing in-game achievements
By reaching higher tiers, players can unlock exclusive gun buddies that showcase their dedication and hard work. Premium battle pass holders often have access to even more unique charms, making it a worthwhile investment for those who want to stand out on the battlefield.
Radianite Points Distribution
Earning Radianite points
So, you're looking to earn some sweet Radianite points in Valorant Episode 7 Act 1 Battle Pass, huh? Good news! The progression system in the game is designed to help you accumulate these precious points as you play. Here's how you can get your hands on them:
Battle Pass: By purchasing and leveling up your Battle Pass, you'll be rewarded with Radianite points at various tiers throughout the pass.
Contracts: Completing Agent Contracts will also grant you Radianite points as part of the rewards.
In-Game Store: If you're feeling a bit impatient or just want to support the game further, you can always buy Radianite points directly from the in-game store.
Now that we know how to earn those shiny Radianite points let's dive into what they're used for!
Upgrading weapon skins
One of the coolest parts of Valorant is customizing your weapons with unique and flashy skins. But what if I told you that there's more than meets the eye? That's right; many weapon skins have additional levels that can be unlocked using – drum roll please – Radianite points!
Here are some examples of what upgrading weapon skins can do:
Unlock new color schemes
Add special visual effects (such as animations or particle effects)
Enhance kill animations and banners
Remember, not all skins are upgradeable, so make sure to check if your favorite skin has any hidden surprises waiting for you!
Points allocation per tier
It's essential to understand how many points each tier requires for an upgrade. Typically, weapon skin upgrades follow this structure:
Tier 1: Unlocked by default
Tier 2: Requires 10 Radianite points
Tier 3: Requires 15 Radianite points
Tier 4: Requires 20 Radianite points
Keep in mind that this is just a general guideline, and some skins might have different requirements or even additional tiers!
Balancing in-game economy
You might be wondering, "How does the distribution of Radianite points affect the game's economy?" Well, let me tell you! By limiting the number of Radianite points available through free methods (such as Battle Pass and Contracts), players are encouraged to either grind harder or consider purchasing points from the store.
This system also ensures that upgraded weapon skins remain somewhat exclusive and valuable, making them feel like a real accomplishment when unlocked. It helps maintain a healthy in-game economy by providing an ongoing revenue stream for Riot Games to continue supporting Valorant with new content and updates.
So there you have it – everything you need to know about Radianite Points Distribution in Valorant Episode 7 Act 1 Battle Pass! Now go out there, earn those points, and show off your flashy weapon upgrades to your friends (and enemies)!
Leaked New Agent Reveal
Rumored Agent Abilities
The new agent in Valorant Episode 7 Act 1 Battle Pass is causing quite a stir among players. Let's dive into the rumored abilities of this mysterious character:
Ability 1: Some say that the new agent could have an ability to deploy a throwable device, which would emit a sound or visual distraction, disorienting enemies and giving your team an advantage.
Ability 2: Another speculated ability is a temporary shield that could protect teammates from enemy fire for a short duration.
Ability 3: Players are also discussing the possibility of an area-of-effect ability that slows down enemies within its radius, making them easier targets.
These potential abilities could significantly impact the meta of Valorant, as teams adjust their strategies to counter or utilize this new agent effectively.
Possible Origin Story
As with any new agent in Valorant, fans are eager to learn about their backstory. While no official origin story has been released by Riot Games yet, community speculations suggest that this new character might be related to Hades II – another project developed by Supergiant Games. This connection might hint at some crossover between both games' universes or even collaboration between developers.
With the next season just around the corner, we can expect more information about this mysterious agent's past and how they fit into the world of Valorant soon.
Potential Impact on Meta
The introduction of a new agent always shakes up the game's meta, forcing players to adapt and develop new strategies. Here are some ways this upcoming agent could influence gameplay:
The rumored abilities might encourage teams to focus more on deception and misdirection when approaching enemy territory.
With a possible shield ability in play, agents known for their defensive capabilities (like Sage) may see increased usage as teams prioritize protection over aggressive tactics.
If an area-of-effect slowing ability is indeed part of the new agent's arsenal, controlling choke points and objectives may become even more critical to a team's success.
We'll have to wait and see how the developers at Riot Games balance this new character to ensure they don't overshadow other agents or disrupt gameplay too significantly.
Community Speculations
As always, the Valorant community is buzzing with theories and ideas about what this new agent might bring to the table. Some popular speculations include:
The agent could be a direct counter to specific existing agents, such as Jett or Reyna, forcing teams to rethink their compositions.
They could be an initiator-type agent who excels at starting engagements and creating opportunities for their team.
With Hades II potentially being connected to this new character, some players are hoping for unique cosmetics or even a brand-new map inspired by Supergiant Games' hit title.
Ultimately, we won't know for sure until Riot Games officially unveils the new agent in an upcoming update. But one thing's for sure – Valorant Episode 7 Act 1 Battle Pass will undoubtedly bring exciting changes that keep players on their toes. So gear up, gather your team, and prepare for what's coming next!
Episode 7 Theme Exploration
Central Storyline
The central storyline of Valorant Episode 7 Act 1 Battle Pass is expected to bring a fresh experience for players, with new challenges and missions. The narrative will continue from the previous episodes, building upon the existing lore of the game. Players can anticipate an engaging plot that unfolds as they progress through the tiers of the battle pass.
Developers have been tight-lipped about specific story details, but leaks suggest that we might see some interesting twists and turns in Episode 7. As always, players should keep an eye out for hidden clues and easter eggs that could reveal more about the overarching plot.
Map Updates
With every new episode, Valorant fans eagerly await map updates to enhance their gaming experience. Episode 7 Act 1 is no exception, as it's rumored to introduce changes to existing maps or even add a completely new one:
Existing maps may receive visual upgrades or layout adjustments
A brand-new map could be introduced, offering unique gameplay opportunities and strategies
Environmental storytelling elements might be added to further immerse players in the world of Valorant
While nothing has been officially confirmed yet, these potential map updates are sure to keep both casual and competitive players engaged throughout Episode 7.
Cosmetic Items Theme
Valorant's cosmetic items are always a major talking point among fans. For Episode 7 Act 1 Battle Pass, we can expect a fresh theme for weapon skins, player cards, sprays, and other collectibles:
Weapon skins inspired by the central storyline or characters from previous episodes
Player cards featuring unique artwork related to key events or locations in Episode 7
Sprays showcasing humorous or memorable moments from past episodes
These themed cosmetics not only allow players to show off their dedication to the game but also serve as conversation starters within the community.
Connection to Previous Episodes
Episode 7 Act 1 Battle Pass is expected to maintain strong connections to previous episodes, both in terms of narrative and gameplay:
The central storyline will build upon existing lore, potentially revealing new information about the world of Valorant and its agents
Gameplay mechanics introduced in earlier episodes may be further developed or refined, offering new strategies for players to explore
Previous episode cosmetics might make a return, allowing players who missed out on earlier battle passes to complete their collections
By maintaining these connections, Episode 7 Act 1 will provide a cohesive experience for long-time fans while still offering fresh content for newcomers.
Concluding Thoughts on Battle Pass
Valorant Episode 7 Act 1 Battle Pass offers a ton of exciting content for players, including exclusive weapon skins, player card rewards, spray rewards, gun buddy rewards, and Radianite Points distribution. With the leaked new agent reveal and Episode 7 theme exploration, this battle pass is set to be one of the most thrilling yet.
The pricing details offer both free and premium options for players to choose from. The premium battle pass provides an enhanced experience with more rewards and customization options. So if you're looking to upgrade your game and show off your skills in style, it's definitely worth considering.
In short, Valorant Episode 7 Act 1 Battle Pass promises a fantastic gaming experience with loads of fresh content to explore. Don't miss out on all the action – get ready for the release date and start time!
FAQ
How much does the Valorant Episode 7 Act 1 Battle Pass cost?
The exact price details are not available yet but based on previous battle passes, we can expect the premium version to cost around $10 or 1000 Valorant Points.
When will Valorant Episode 7 Act 1 Battle Pass be released?
While there is no official release date yet, it is expected to launch soon after the conclusion of Episode 6 Act III.
What are some notable weapon skins in this battle pass?
Exclusive weapon skins will be available as part of the premium battle pass. Specific details about these skins have not been revealed yet but expect them to follow the theme explored in Episode 7.
Can I earn Radianite Points through this battle pass?
Yes! Both free and premium versions of the battle pass will include opportunities to earn Radianite Points which can be used for upgrading your weapon skins or purchasing other in-game items.
Will there be any new agents introduced in Valorant Episode 7 Act I?
Leaks suggest that a new agent will be revealed as part of Episode 7 Act I. While no official information has been released yet, the excitement around this potential new addition is building.
How do free and premium battle passes differ?
The free battle pass offers basic rewards for players, while the premium version includes more exclusive content such as weapon skins, player card rewards, spray rewards, gun buddy rewards, and additional Radianite Points.
What is the theme of Valorant Episode 7 Act 1?
The specific theme for Episode 7 Act 1 has not been officially announced yet. However, based on previous episodes and acts, we can expect it to be in line with the overall storyline and aesthetic of Valorant.